Tom Stocks is the founder of Actor Awareness, a campaign fighting for more equality, diversity and working class talent in the arts. In the 3 years it has been established, the campaign has rapidly gathered support from all corners of the arts industry with mention of their work featured in The Guardian, The Stage, ITV News, BBC Radio, Sky News and more.
Part of Actor Awareness's work is hosting new writing scratch nights, workshops and a new writing festival. This February, they bring their New Writing showcase to The Old Courts featuring a platform for feedback from an industry panel comprised of Actress and co-founder of Take Back Theatre Julie Hesmondhalgh, Octagon Theatre Producer Catt Belcher & Theatre Director and Facilitator Joe Gilmour.
We caught up with Tom to find out more about the upcoming event and what the future has in store for Actor Awareness.
Hi Tom! So you're from Bolton but you founded Actor Awareness when you were based in London – are you excited to be launching back in the North?
I am absolutely over the moon to finally bring it to the north. I had to leave Bolton when I was 21 because I just felt there wasn't alot of opportunity for me to develop up here and with everyone telling me I had to go to London to make it thats what I did. However from the very get go, it was always my plan to bring it back up here to give the opportunities that I didn't have growing up. I know it sounds weird but London was always my guinea pig with it and to most people I have probably done the journey backwards. Most people would make the work here and then take it down to London, but my plan and vision was the opposite. I always felt if it could be sustainable and create opportunity in the metropolis of London, Actor Awareness could thrive anywhere. So I've stuck to my word and 8 years later here I am.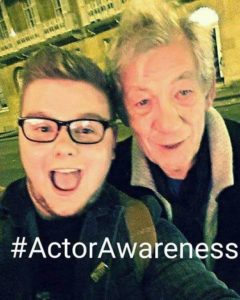 What inspired you to set up Actor Awareness?
I set up Actor Awareness because of drama schools to be honest. I got into drama school twice and both times I couldn't afford the fees without plunging myself into debt I would never get out of. I deferred my place twice and by the 3rd time I realized I was chasing a dream I simply just couldn't afford. So for a while I had a bit of a chip on my shoulder about it all, started to be abit mouthy on twitter but always using #ActorAwareness as I was calling out the barriers working class people faced in the industry. As I was doing this people seemed to agree with me and I built a following and realized there was a lot of people who shared the same views but didn't speak up, so me and Actor Awareness unintentionally became that voice. So i started rasing awareness on the issue and did something about it. I got a twitter campaign going with people sending pictures in of them supporting Actor Awareness to raise our profile, I even got the This Is England cast to do one and Wigans own Ian Mckellen, who also gave us a bit of funding. You can see them in the pictures below. So from picking up the momentum I took it offline and started doing in person meets and set up the new writing nights to create opportunities for working class writers, directors and actors. The rest is history.
As an actor, writer, producer and poet yourself, we bet you have bags of advice for those aspiring to do the same – what's your top tip?
My 2 biggest things I can say to any emerging or aspiring artist is firstly don't let your past define you. I was predicted no GCSE's, the GCSE's I did get I just scraped through, but that didn't hold me back because look at me now, an award winning writer, have a book coming out, run my own company, alongside more. The second thing is create your own work and be in charge of your own future. Never ever just sit by the phone waiting for your agent to call, or wait for an opportunity to just fall in your lap. Get writing, get collaborating and get going. You can make art anywhere now and don't need loads of funding either. I mean I run my own poetry night at Spinners Mill in Leigh and all I did was drop in on the owners one day, asked if I could run an open mic night and they said yes, simple as that. If you don't ask, you don't get, I have always lived by that and just been balsy enough to send that email or ask that question.

We can't wait to host the Class Night on the 17th Feb – can you tell us a bit about what audiences can expect to see?
5 incredible pieces of short new writing from northern writers, telling working class stories. It's always a fun event, always a great place to meet and network to.
How can people get involved with Actor Awareness?
Follow us on our socials and look out for the writer and casting call outs we do. Also if anyone ever has any project ideas, drop us a message, I'm always willing to listen.
Actor Awareness
Website: http://www.actorawareness.co.uk
Twitter: @actorawareness
Instagram: @actorawareness
Tom Stocks
Twitter: @tom_stocks
Instagram: @northernertomstocks