In The Old Courts' Meet-the-Maker series, we speak to artists, crafters & creative business owners to learn more about what they do and how they work.
Catherine West-McGrath is The Old Courts' Projects Administrator as well as a multitalented creator whose talents include writing, singing and book design. We wanted to find out more about the process behind creating her first book and what other projects she's working on.
Hi Catherine! Tell us a bit about yourself.
Well I self-published my first book, Ceecee's Treasure Chest, in December 2019. I found a really good illustrator, Adam Walker-Parker and a company called Bear With Us Productions to design it for me. I'd never published anything before and I knew nothing about publishing or designing books this time last year. Then, after the book was published, I was able to go into schools and libraries and do workshops on writing and self-publishing. I've used my time in Lockdown to develop my graphic design skills so that I can self-publish my own books. I've published a range of different books over the past few months including two poetry collections. I've also just discovered that I'm a finalist in the North West Cultural Education Awards 2020, organised by Curious Minds, for designing some children's activity books to help with home schooling.
What is Ceecee's Treasure Chest about?
It's about a conversation between a dad and his daughter about a treasure chest that he gives her on her twelfth birthday. It's a coming of age story but it also has a message for any of us when we may forget about the treasure each of us holds within ourselves.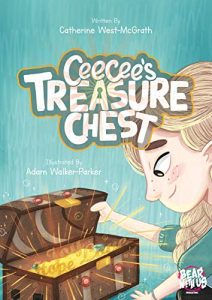 What inspired you to write it?
It was while I was recovering from being very ill from stress and burnout and I was trying to process a lot of things. I'd started to do a lot of journaling, just writing down every thought and feeling, and that really helped me get my sparkle back. At times I felt like I was trying to untangle a huge complicated knot and it reminded me of finding a jewellery box where all the precious pieces inside have become entangled with bits of fine chain that we try to free so that we can wear them again. So that was my inspiration for the story and I developed it from there.
What is it you like about being creative?
I love being able to create tiny pieces of art that are easy to digest. Things that take just half a minute or three to read or watch. Sometimes that's all we need to change our mood or see things in a different light. I have to admit that I neglected my creativity for a long time, especially when I was employed in some very stressful jobs. Now I see creativity as an essential part of everyday, like eating well or getting some exercise. And it's certainly helped my during Lockdown. If I've ever felt a bit fed up with it all I've recorded a song or created a YouTube video or posted a poem and I've always felt so much better and brighter afterwards.
What else have you got in the pipeline?
I always have lots of ideas in my head. I've made short movies to some of my songs and I'd love to have one of my songs included in an independent short film one day. That's definitely on my bucket list.
Where can people find out more about your work?
You can see more of my work on my YouTube Channel (Catherine West-McGrath).