Charlotte Brennan works in Customer Development for a brewery. She is currently furloughed due to the Covid-19 pandemic and has used her extra time to work on one of her passions, digital illustration. In February 2021, she launched her new brand Hvlcyon Season and put her first collection of prints on sale online.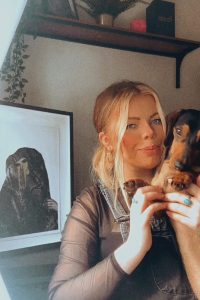 Hi Charlotte! Hope you are good – you've had an exciting start to 2021!
I think, like many people, I'm trying to start the new year with a positive outlook and hoping that it will prove better than the last year, with all the tragedy we have all experienced with the pandemic, the new year looks like giving us hope and a glimpse that there is now light at the end of the tunnel! I find that during furlough and lockdown I needed an outlet to focus my energy on and illustration is something I have wanted to spend more time developing so I'm really pleased to now have started this brand and be working on new pieces all the time.
Have you always been creative?
I studied photography where I developed my skills in programs like Photoshop and I've worked professionally as a digital image executive and used photography in the past for various brands however I've always enjoyed illustrating in sketch books outside of work as a hobby.
So how did you go from illustrating in your free time to launching Hvlcyon Season?
I've always wanted to make prints of my work and thought that having more time on my hands than usual whilst on furlough, it was the perfect time to turn it into a reality by getting prints made, launching a website with online shop and working on the Hvlcyon Season Instagram.
Is there anything you found challenging when setting up your brand?
A lot of thought goes into everything you post when you set up a brand, I'm enjoying creating more professional content and that's something that I've definitely got to dedicate a lot of time to. I also spent months before launching the brand, researching print resources,
costings etc as a big thing I wanted to focus on was having sustainable printing which is why I have my prints produced locally on recycled card for example, its the little touches like that, that I feel are really important for a creative brand.
What inspired your first collection?
'Origins' was inspired by historical illustration mixed with surrealism, I've always really enjoyed historical Victorian journal illustrations as well as Greek/Biblical-esque illustration and this was a way of combining all of these elements into unique pieces
Do you have a favourite piece?
Heroine & Kallos are my favourite pieces from this collection!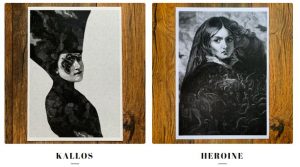 What are your must have tools for creating your art?
I do hand drawn and digital illustration along with collage, this collection is a mixture. Photoshop is the main tool I use, as well as Procreate and hand drawing with fineliners. My main platform is my Instagram as I find it such an inspirational place to connect with other artists and inspire and be inspired by others and be interactive with my followers!
The arts industry has been hit quite hard by the pandemic, however, the lockdowns have led to an increase in people taking up new creative hobbies. Have you found having a creative outlet has helped you in any way during the past year?
Definitely, I find that when I'm drawing/creating, I am in my own world and I just focus on what I'm creating, I don't focus on anxiety/ bad thoughts/what I've watched on the news, its my time where I can just relax, along with running which I took up when the pandemic started, I find them both very therapeutic and helped me during the pandemic. I think its awesome that people have used this time to dive into creative hobbies and maybe discover something new that they love!
2020 saw a lot of people converting ironing boards to desks and pets becoming their new colleagues…what's your workspace like?
Second bedroom was converted into an office just before the first lockdown luckily as I was working from home before furlough! Since then I have tried to make it a little haven and its now home to many plants and prints! Jasper the sausage dog has also taken up residence in the sunny spot on the floor next to my desk.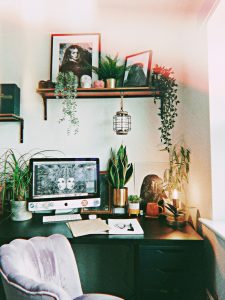 Do you have a go-to playlist to listen to whilst you work?
I always have something playing while I work, it can really vary from heavy metal to those 'low fi beats' playlists on Spotify which are super relaxing. Failing that, I do love putting on true crime podcasts like My Favourite Murder which I love listening to whilst drawing too!
When all of the national restrictions have eased and we start to return to a bit of 'normality', what do you have planned for Hvlcyon Season? Will we see you at Manchester and Liverpool's Print Fairs, for example?
I'd definitely love to take part in both in the future when I have more prints from future collections under my belt to showcase.
Your first print collection is on sale on your website now, what do you have planned next?
My next collection will be very different from the first, they will be a collection of flash style handdrawn illustrations. My style is quite varied and I love trying new styles so the collections will all be pretty different!
What would you say to anyone who is thinking of turning their passion into a business?
Bite the bullet and go for it! 🙂
Thanks Charlotte! Best of luck with Hvlcyon Season, we're looking forward to seeing your next collection. 😊
You can keep up with Hvlcyon Season on Instagram @hvlcyon.season and shop the new collection 'Origins' online now at hvlcyonseason.bigcartel.com