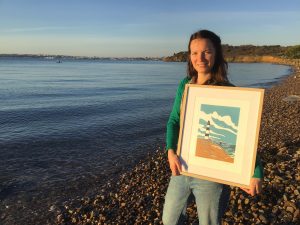 In The Old Courts' Meet-the-Maker series, we speak to artists, crafters & creative business owners to learn more about what they do and how they work. Noémie Courant is a Linocut artist based in Brittany, France who previously spent time working in Wigan as part of the town twinning with Angers.
Your hometown Angers, France is twinned with Wigan and you spent time working here in 2016/17. How was your experience?
I've much loved my experience in Wigan and working for the twinning! My best memories are definitely the Francophonie Week (March 2017), Wigan Arts Festival and the Twinning exhibition organised with the Old Courts. I've received a very warm welcome from the community and it's definitely been a once-in-a-lifetime experience!
What is your background in art?
I would say that I'm a self-taught artist, I have no background in art and I didn't study it at school or university. However, I didn't start from 0 as my dad is an artist, and I've probably learned many ''secret tips'' and techniques through his work. All I know is that I've always loved drawing from a very young age. I always feel in a good mood when I do art and there's always something new to learn, people to connect with and get inspiration from…all that is giving me some exciting perspectives!
What attracted you to linocut?
Everything! The colours, the technique, the tiny details you can get when carving you lino plate, the surprise you have once you make your first printing test etc. It's a lot of fun to print your art from home : I use a very basic instrument that is the back of a large spoon as my best printing material 😉 Linocut makes it very accessible for everybody to give it a go, the technique is very simple but requires a lot a patience. But it's also very rewarding!
What's your workspace like?
It's a very basic workspace…just a desk and a small shelf where I store my material and equipment. Doing art is my second activity (I work full time as an employee) but many of my evenings are dedicated to linocut (lucky me, I've got a very patient husband…). The cool thing is that I'm currently renovating a house in Brittany and there will be a dedicated workspace for my linos. A nice studio next to a woodstove but also a garage that I could transform into an art gallery to exhibit my art. I'm super excited !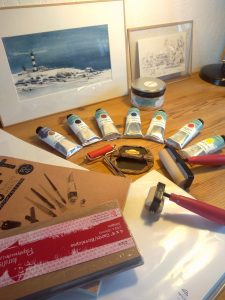 You recently posted a sketch of a linocut you're working on inspired by Angers, does most of your inspiration come from your surroundings?
I would say 50/50! 50% of my inspiration comes from the place where I now live, in Brittany while the other half comes from the place where I grew up and where my roots are (Angers and the Loire Valley). It's important for me to get inspiration from both places in which I feel home. Landscapes and nature inspire me the most, marine life is also very graphic and inspirational.
What advice could you give to someone completely new to linocut?
Don't give up! I've spent the entire year testing anything that comes with lino (plates, inks, cutting material, paper, etc.). After a year of testing, I still haven't found out what suits me best in terms of furniture. It takes a lot a time, paper is a good exemple : you could test 50 different papers and realise that there might be only 1 that works well with your art, so don't give up and enjoy the process 😉
We recently purchased a print of "Heaven of Anjou" and can't wait to put it up on the walls of The Old Courts! Do you have a favourite piece?
Me too ! I can't wait to see a wee piece of your twin town on your walls! I would say that my favourite piece is 'Planète Armorique' in gold (but you don't want to know how many hours I've spent carving my lino plate…) 😉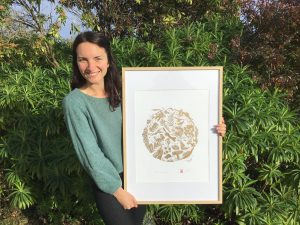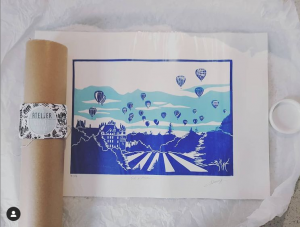 Where can people find your work?
I've got an etsy shop
Instagram @atelier.noemie.courant
Facebook  @AtelierNoemieCourant
I've got lots of exciting projects at the moment, so stay tuned 😉