The Collaborative Touring Network is seeking four partners to join our collective, to form a truly national network of grassroots organisations using creativity to make real and long-lasting change in our places.
EXPRESSION OF INTEREST DEADLINE, WEDNESDAY 23 FEBRUARY, 10:00
SECOND STAGE INTERVIEWS (via ZOOM), 2 – 4 MARCH
DECISION BY 11 MARCH
WHO WE ARE

The Collaborative Touring Network (CTN) is a collective of grassroots organisations, based in areas of England where levels of arts investment and engagement are low. Our network is The Old Courts in Wigan, Doorstep Arts in Torbay, Lyrici Arts in Medway, Looping the Loop in Thanet and Jumped Up Theatre in Peterborough.
The Collaborative Touring Network (CTN) isn't a temporary project, it is a lifelong, collective mission to do everything we can to make each of our towns and cities a better place to be through culture. This year, nine years into our work together, CTN is seeking four new partners to join our network in 2022.
Our existing network partners are different in their scales, structures, capacities, and resources; we view this diversity as a strength and have a core set of shared values that underpins our work together. You can read about our way of working here.
WHO YOU ARE

We are looking to partner with producers, arts organisations, community organisations of any size, shape, and scale, who are based in urban areas of England where arts engagement is low.
Partners must be interested in working as part of a true network and want to commit to leading change in the way artists develop and tour work in areas of low engagement.
To ensure our network is truly national, we are particularly interested in our new partners including organisations based in the Midlands and the North-East of England.
To ensure our network is contributing to a fairer, more inclusive society; we are particularly interested in meeting prospective partners who are disabled-led, working-class-led, people of colour-led, LGBTQI+ led.
We believe access to cultural experiences and opportunities for creative expression should not be limited by circumstance, class or identity, and are interested in meeting partners who are similarly driven by this belief.
WHAT WE WILL DO TOGETHER
In 2022 and 2023, the network will collaborate with exceptional artists to develop and tour world-view-changing live performances, with the inclusion of local artists and communities at the heart of the activity.
In 2022, the network will be partnering with John Pfumojena and an ensemble of global majority performers – to develop and tour a new live performance which draws on multidisciplinary art forms. We will be creating a show that is scored by Zimbabwean Marimba and Mbira music, and various languages. We want communities across the network to engage with this culture and to share their own; contributing their own artistic ideas that will form part of the final performance. We are shaping a work that aims to disrupt convention and which focuses on the importance of places and communities embracing difference.
Associate Artists will be funded to work alongside John Pfumojena and the ensemble, in each of the partner locations. Collaborating with John and with their local community, Associate Artists will develop their own creative response to the work that will be incorporated into the show on tour in their location.
John Pfumojena says: "This collaboration really does what it says on the tin. Co-creating a show with the partners in the network, aided by an associate artist in each location, devised with community members. The Zimbabwe Mbira and Marimba instruments are the bedrock for this creative work, and we are asking every single person to come as they are and interact with their authentic selves. Zimbabwean Bantu Shona culture meets with myriad genres in dance, music, movement, spoken word and storytelling. Culture shaking hands. I'm truly excited to be leading this work in an opportunity provided by the Collaborative Touring Network. Surely this is how collaboration should work across the country and the world."
Later in 2022, and into 2023, the network will be partnering with Touretteshero – to develop and tour a new live and digital performance, which centres disabled people as oracles for our time and explores what disabled-led theatre looks like now.
Jess Thom says: "This has been an exceptionally hard time for disabled artists who have had to find new ways to safely create and share their work in a world impacted by COVID. I feel excited and optimistic to be working with the Collaborative Touring Network on this new project, and about the opportunity it offers to develop new ways of making and touring work that centres disability arts in a kind and sustainable way. This will build on the existing relationship with the network that has evolved and deepened over the past six years."
In 2023, the network will collaborate on a third touring project. This activity is yet to be planned and will be devised by the full network, in partnership with a lead artist.
Please see Further Information for Partners document for more details of the activity we will produce together over the two-year partnership.
FEES, FUNDING AND RESOURCE
CTN Partners receive a combination of fees and restricted funding through the network. This is in addition to the funded activity that is supported to take place in each location, and the support provided through network-funded roles including the Project Director, Project Officer, Fundraising Consultants and Evaluator. Each partner is also expected to contribute financially to the network via earned income (i.e., Box Office) and via supported fundraising, with expert input and resource from arts consultants Adapt for Arts.
Please see Further Information for Partners document for a detailed breakdown of the fees and funding available, and the expectations for earned income and supported fundraising.
New partners will be committing to working with the network for a minimum of 2 years, from March 2022 to February 2023, and March 2023 to February 2024.
TIMELINE
Partners applying to be part of the Collaborative Touring Network need to be ready to deliver activity immediately after joining the network. The table below outlines the working schedule for activity in 2022, 2023 and 2024.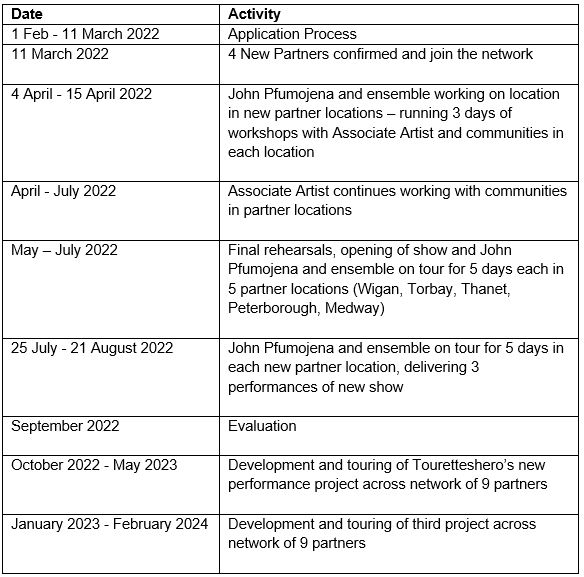 APPLICATION

The application process will work across two stages.
The first is an expression of interest, and this can take any form you feel most comfortable with, a letter, a video, a voice recording. At this first stage, we are interested to know:
What interests you about joining the network?
What will you bring to the network – as an individual and/or organisation?
How are you currently working with communities in your place?
What change do you want to create locally, and how could being part of the national Collaborative Touring Network help?
Please send your expression of interest via email to Project Director Rosie Scudder (rosies@theoldcourts.com) with the words EXPRESSION OF INTEREST included in the subject line.
Your email should also include:
– Your full name
– Your organisational name
– Your registered business address
– One online link to support your application (i.e. a website, an example of your work)
Written applications should be no more than 1 side of A4. Video or audio files should be no longer than 4 minutes in length. If you are submitting your EOI as a video or voice recording, please send a link to an online location (i.e. youtube, dropbox or gdrive) and include any passwords needed to access this file in the email.
If you require access support to complete an application, or if this approach doesn't work for you, please contact Rosie Scudder, CTN Project Director, on rosies@theoldcourts.com, to arrange support or to discuss a different way of applying.
The deadline for this first Express of Interest stage is Wednesday 23 February, 10:00am
We will be running an online information session about CTN and this process on the following date:
Thursday 10 February, 12pm-1pm
You do not need to attend this session in order to make an application, but if you would like to come along, please sign up here for an online information session. Sessions will be auto captioned and recordings of parts of these sessions will be made available for anyone who cannot attend at these times.
After 23 February, CTN partners will shortlist the applications, with support from the Touretteshero team. We will be using our nine 'Way of Working' principles as a key guide in this shortlisting process.
Stage 2 will involve online conversations with shortlisted partners (2-4 March, via Zoom), about your practice, your place, and your ideas for the project. Interviews will be with the CTN Project Director and a panel including representation from current CTN partners and independent artists. We may request the submission of documents at this stage to help us assess your readiness to deliver the activity, for example your organisational accounts.
A final selection will be made by Friday 11 March.
CTN is committed to gathering feedback and supporting access costs for applicants at all stages of this application process.